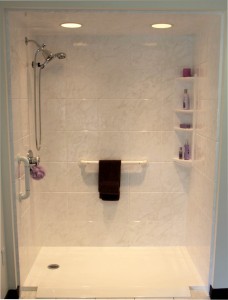 Quest Rewards
+30 Strength
+25 Health
+20 Spirit
Start the day off feeling refreshed and pumped.
Quest Briefing
Let me tell you, comrade. For most of my life, I was under the impression that I could not go a single day without having a hot shower in the morning. I felt like it was a limitation but that there was nothing I could do about it.
That is, until I had to.
When I lived in the redwood forests of California, the only shower I had access to was a cold shower. So I had no choice but to tough it out.
It was painful, shocking, and nerve wracking. But, you know what? I got over it. The human body adapts rather quickly, I found.
In no time at all, I was quite content taking cold showers. My wife thought I was crazy, listening to me huff, puff, and gasp for air.
But the feeling is so magical. Nothing wakes you up more. Nothing pumps you up in the morning quite like an ice cold shower. It's extremely refreshing and you feel strong and alive afterwards.
I got to a point where taking a hot shower actually started to feel toxic. My body began to crave the sensation of cold water. It began to feel healthier to take cold showers.
Now, I love them! They revitalize you like nothing else. And they force you to breathe heavily and rapidly, which really gets your circulation pumping.
I can't tell you enough how amazing you feel after getting out of a cold shower. You'll feel strong. Solid.
Give it a shot, don't be a wimp!
Quest Objectives
Take a cold shower. Don't use any hot water.
If you want, though, you can start by taking a hot shower and then switch it to cold at the end. It's a good way to start off. But if you want the full effects, just jump in and be ready for a rush like no other.
Make sure to let the water pour all over you, including your back and head. Really get into it, like you would if it were a hot shower.
Bonus #1: try to not shiver.
Bonus #2: try to sing in the shower…it's funny.
Share this Quest
Hey do you have a friend who needs to chill out? This quest will cool anyone's jets! Email them this link:
http://align-mentality.com/quest-power-shower/