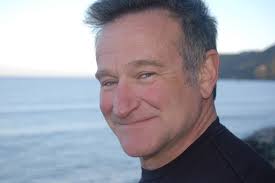 Whoa! I had no idea he was battling with depression. It just goes to show you: depression is indiscriminate. It doesn't care how funny you are. Depression doesn't give two cents about your bank account.
*Edit:* Thank you, Robin for all the joy you have spread to planet Earth. We owe it to Robin to take a good, honest, and mature look at exactly what depression is and how we can help those who suffer from it. *End Edit*
I gotta be honest, I've never fully been able to understand depression. I used to think people could snap out of it if they wanted. Yeah…I used to be "that guy"…
…you know…the parrot in people's faces telling them stuff like:
"Just go outside and get some exercise!"
"It's because you're not following your passion!"
"Happiness is a choice!"
I want to publicly apologize to all the people I may have hurt through my ignorance. Please forgive me…and forgive us: the people who may never truly know what's like to experience it first-hand.
The reason I'm writing this article is not to help people with depression. It's to help people who DON'T have depression…
I'm here to tell you that it's okay. You may never know what it's like to be truly depressed. But you don't have to have personally gone through depression in order to know how to respond to it. You don't need to understand depression.
For people like you and I, beating depression is easy. But that's because we've never been utterly incapacitated by it for prolonged periods of time.
From what I understand, depression is like trying to feel your way around for a light switch in a pitch-black, dark room you've never been in before. The only problem is: there is no light switch. And the walls move back two steps for every step you take.
But that's not the point of this article. I do not wish to educate people on what depression is…I want to help people respond to depression in the right way. And the answer, despite being paradoxical, is more obvious than you may think.
When it comes to depression, the ball is NOT in the victim's court. You can't just tell someone to fix themselves. That's the weird thing about depression: it renders the person powerless to their own recovery.
When you have depression, simply existing can be a chore. Some people with depression would gladly kill themselves…if only they had one ounce of energy to do so.
"Snap out of it, huh?"
No.
No.
Depression has a compounding effect. Sometimes it takes the person everything they've got to just get up and grab a box of crackers so they don't starve to death.
Diet plummets. Depression worsens.
It saps your energy, so you lie around in a pool of misery and pain…even just the THOUGHT of exercising is excruciating. The body becomes weaker and more fatigued…the brain stops pumping the chemical concoction that keeps most of us afloat through the rough times.
The brain and body give up. Depression worsens.
Your friends all tell you the same unhelpful crap and ask all the same dumb questions…to the point where you'd rather not even make contact with them than to explain the some inexpiable thing over and over again.
Loneliness ensues. Depression worsens.
The depression spirals and spirals downward until you're in a black, empty sea of nothingness with no one around. You call out, "Hello?"
But no sound came out of your mouth.
You look up and you see a tiny, tiny glimmer of light representing your former ability to feel emotion. You know it's there…like a distant memory.
If I had a billion dollars, I would create and fund depression recovery homes. These homes would be centered around making the individual feel welcomed…comforted…understood.
There would be a team of people who care. They'd do all the cooking…all the cleaning. And if you only want 1-2 bites of food, that's okay. If you just want to talk and be heard, you can. Or, if you want to stay in your room and block out all the light…well, hey, that's cool too.
Most of all, the people employed at these homes would be Lovers. These would be people with huge hearts who have effectively rid themselves of judgment. They'd give excellent hugs to people who want/need them. Studies show that being hugged has a dramatic effect on the brain's ability to produce chemicals to treat depression.
A person with depression would be able to enter these homes and feel loved. All of their needs would be met. They wouldn't have to have a job…or even appear in public if they didn't want to.
There would be nature and beauty. A courtyard full of exotic plants and stunning flowers. A giant waterfall statue in the center with the words, "I am Love".
God would be there.
To all the people who have never had severe depression: the answer is not what you can DO for the person. Sometimes all they need is to be Loved.
Love is the most powerful force in the Universe.
It can dispel even the most persistent darkness.
Love is our duty to our fellow man. It is the force that unites us all, as One.
I've seen Love transform even the most hardened of criminals.
Perhaps the reason why depression exists, in the grand scheme of things, is to show is that WE NEED EACH OTHER.
Sometimes we can't do it alone.
When a person's hands are cut off, the rest of the world unites to lend a helping hand.
This is a groundbreaking discovery for me. In a weird way, I see all depressed people as Heroes. People with depression give us the opportunity to Love…to forgive…and to help each other out.
It's quite a simple philosophy: the cure for depression is Love.
Love and Time.
So the next time you meet someone who may be struggling with depression, please…
…give them your Love…
…give them your Time…
Sometimes that's all you can do.
Cheers,
D/C